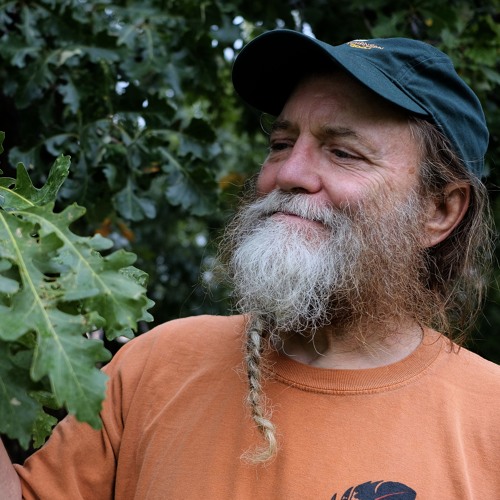 Poetry As Music by Dixie Treichel
Anthony Ceballos is a Minnesota poet who loves reading his work before an audience. "A live reading of a poem for me is just as important as how it is read on the page," he says. Anthony is starting to appear in a new weekly poetry segment on Melissa Olson's program Sanctuary. Sanctuary: Arts and Activism airs Mondays from 1 to 2pm on KFAI.

Dan Keiser, The Oak Man by Brigitta Greene
The Mendota Dakota tribal community honored arborist Dan Keiser [pictured] at their annual pow wow in September of 2019. Keiser goes by "Oak Man," a nickname he acquired during the years-long standoff over the construction of Highway 55 in the late 90s. The protest pitted environmental activists and native communities against MnDOT. A central symbol of the fight were four bur oak trees, well over 100 years old, that native communities believed to be sacred, and highway officials said needed to be cleared. The highway ultimately won out, and – 20 years ago this December – the trees came down. But behind the scenes, Keiser took cuttings from the oaks and brought them to an expert who was able to graft them onto new saplings. Keiser then transplanted the grafted trees on the historic grounds of St. Peter's church in Mendota, and still cares for them today.
Exacting the Legacy of the Old Anoka Hospital by Mike Moen
It's been 20 years since the Anoka State Hospital closed its doors. It was replaced by a newer facility for those dealing with mental illness in the Twin Cities' north-metro. But decades later, the old campus still gets a lot of attention, namely for its sometimes unsavory reputation. As Mike Moen reports, there's been recent efforts to tell a more honest history of the hospital – both good and bad.
Light Rail Art, Hidden In Public by Matthew Schneeman
Sometimes public art so seamlessly blends with its environment, it can go unnoticed. We go on a short sonic tour of understated public art along the Twin Cities' Light Rail Transit.
Aerial Tales of Bone Mother by Dixie Treichel
The Slavic folklore of Baba Yaga flies high in Bone Mother, a world premiere by Sandbox Theatre's aerial wing – The Swingset. Co-directed by Evelyn Digiloramo and Danielle Siver, the work weaves together myth, ritual and rites of passage with aerial silks, theater and live music. Bone Mother is performed in the grandiose architecture of The Museum of Russian Art in Minneapolis.
Welcome to the Cabal by Dixie Treichel
Within a hidden maze of mysterious rooms, a magical secret society needs the help of new initiates. Cabal – a play with puzzles, created by the Minneapolis based Walking Shadow Theatre Company, combines intimate acting with an immersive environment and enormous, hands-on puzzles for the audience to solve.
Historic Tug of War: 10,000 Kids vs. House by Matthew Schneeman
Next to Minnehaha Falls sits an old house that hosts exhibits recalling Minneapolis history. The house itself is the site of early business deals drawn up by the newly arrived white people. Even the naming of Minneapolis took place there. Matthew brings us this little house's complicated history.